Weddings in Split: we have rounded up a list of top Split wedding venues that will leave you breathless. The possibilities for your destination wedding in Split are endless. The city of Split offers many superb wedding locations to suit different tastes, budgets, and expectations.
Breathtaking wedding venues
for your dream destination wedding in Split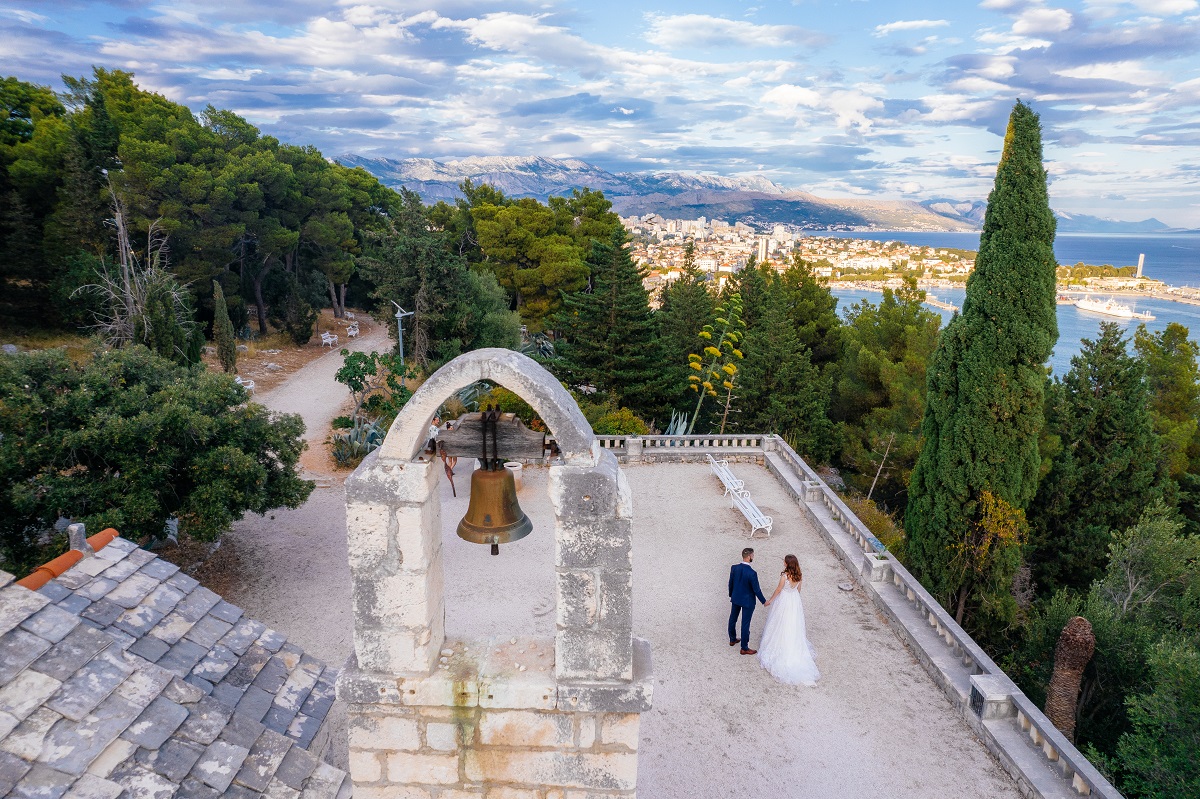 Choose from a selection of cityscapes, chic gardens, beautiful hotel terraces, and seafront views.
The renowned travel publication, Conde Nast Traveler, has recently singled out the city of Split as one of the leading wedding destinations in Europe. It is also known for the remarkable Diocletian Palace and ancient old town. It is 17 centuries old, dating back to the old Roman times of Emperor Diocletian. Today, the city of Split with its chic vibe attracts numerous travelers. Anyone who visits Split and its surrounding areas are impressed by its impressive architecture, unique culture, cuisine, and people. The city's magical ambiance and vibe, paired with incredible food and beautiful wedding venues, is the perfect choice for your dream destination wedding. Imagine your fairytale wedding in Split, surrounded by the crystal clear Adriatic sea, nearby islands and beautiful surroundings. Our 2024 guide for your wedding in Split will help you through your wedding planning process.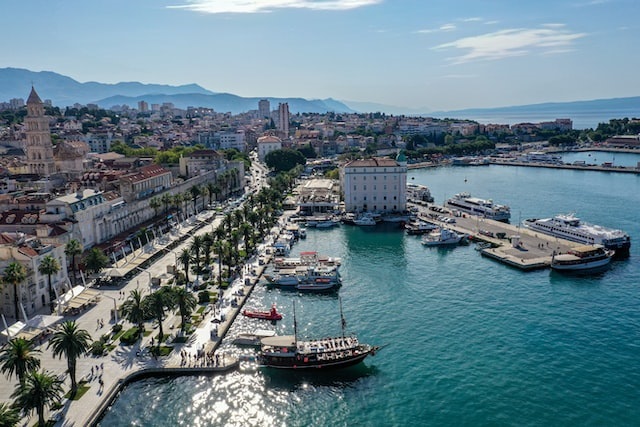 Based on your inputs and preferences, Chic Croatia wedding planner will create a detailed tailor-made offer to organize your dream wedding in Split.
We take time to get to know you
We take the time to get to know you: your wishes, dreams, and expectations you have. Creating a relationship with each of our clients is very important to us. It all starts with the first call or email. Once we have information about your expectations and goals, we take the time to create a detailed proposal to best suit your needs. Furthermore, we offer a personal live guided tour of your chosen venue for a site inspection before confirming the site for your most special day.
Chic Croatia will be your local partner and support as you plan your wedding in Split. We will ensure a smooth and stress-free wedding planning process. Chic Croatia is your go-to wedding planning resource when planning your dream destination wedding in Split, Croatia.
Top wedding venues in Split, Croatia  
To continue, we have gathered the ultimate list of the most memorable Split wedding venues in the region of Central Dalmatia to help you choose your ideal one. The guide below introduces you to all Split-related topics, including our favorite Split wedding venues. This wedding guide introduces you to top Split wedding venues with additional wedding-related information that will help you plan your most special day in Croatia, even if you have never visited the area beforehand. Make sure to check out a selection of Croatia wedding venues as well.
 We invite you to follow our tips and suggestions to ensure your day is memorable and hassle-free.
Table of contents:
HOW TO REACH THE CITY OF SPLIT
WHAT TO EXPECT
QUICK FACTS
THE BEST TIME OF THE YEAR FOR A WEDDING IN SPLIT
TOP EIGHT WEDDING VENUES IN SPLIT
WEDDINGS IN SPLIT: DESTINATION ACTIVITIES AND TOURS
CULTURE AND ART
CUISINE AND WINE
WEDDING PLANNING COST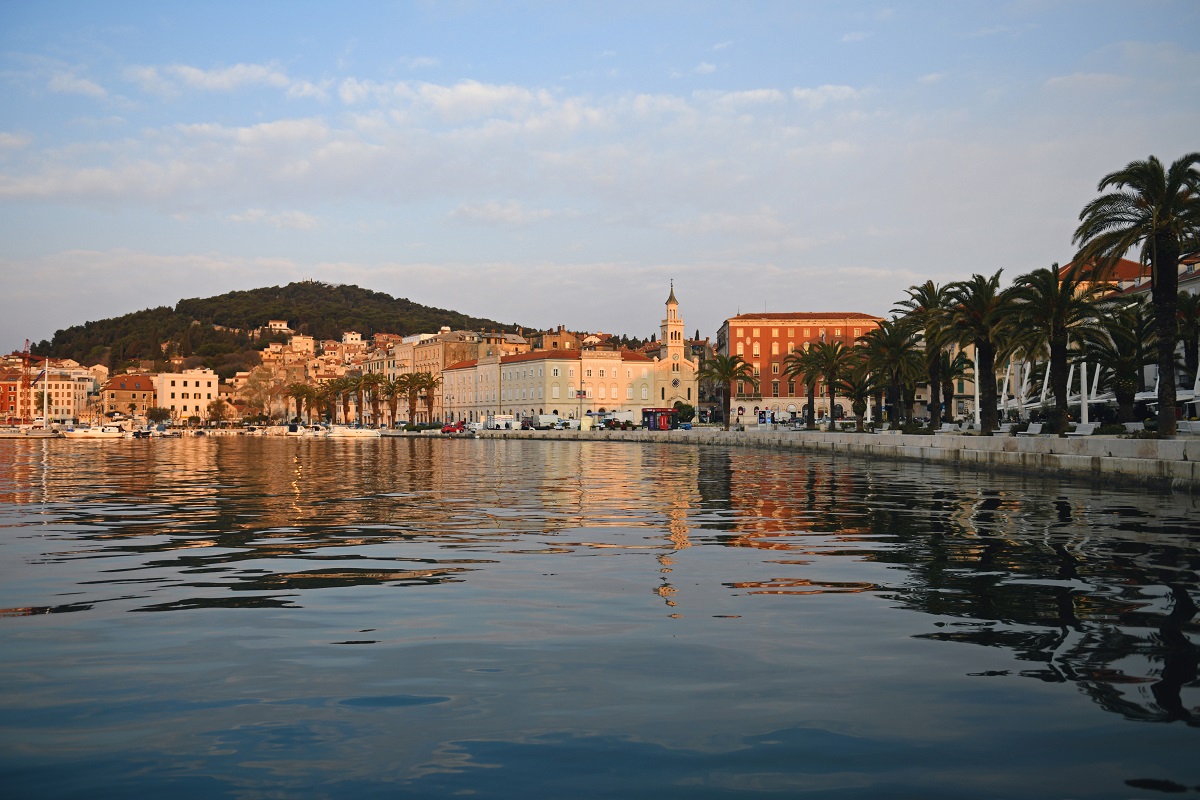 HOW TO REACH THE CITY OF SPLIT
The city of Split is well-connected year-round to all major European cities. From springtime until late autumn, Split Airport has numerous direct and nonstop flights to different European destinations, as well as many connecting ones to international destinations.  As soon as the Airport's schedule is updated for 2023, we will share it.
The airport of Split is positioned 20 km west of the city's center and is easily reachable by car or taxi.
Discover all flight connections from Split Airport and book your flights on time.
WHAT TO EXPECT
The city of Split is the second largest city in Croatia. It has around 200 000 inhabitants. The city is the center of Dalmatia. From the city of Split, you can easily reach the islands of Brac, Solta, Hvar, and Vis. The city is known for its buzzing and vibrant energy.  While visiting Split, make sure to explore the city's green market, locally known as 'pazar', as well as the fish market – both are fantastic places to visit and experience local Croatian cuisine and culture. What else to expect: numerous bars and restaurants, historical places, ancient churches, and museums, and buzzing nightlife.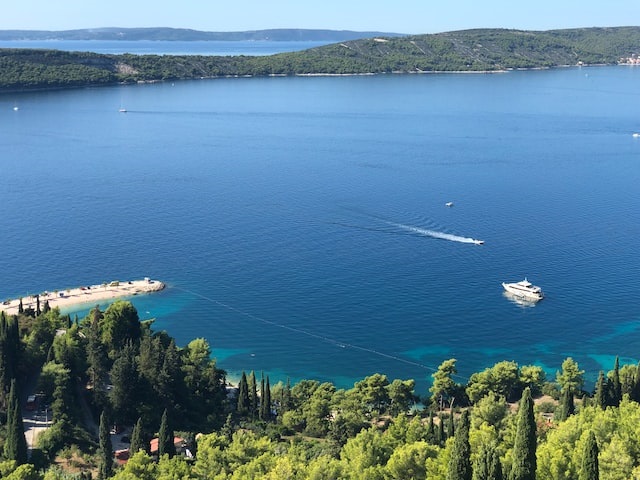 QUICK FACTS
Here are seven interesting facts about the city of Split:
*The city of Split was built for the roman emperor Diocletian. How cool is that?
*Split has the most loyal football fans: Torcida, the supporters of the famous Croatian football club Hajduk, which was founded in 1911
*Several UNESCO heritage sites nearby the city
*The oldest cathedral in the world is located in Split, st. Domnius
*It is the home of many popular sportsmen and athletes; let us only mention a few: Goran Ivanisevic, Toni Kukoc, Dino Radja, Blanka Vlasic…
*With numerous coffee spots and bars, there is a strong coffee culture in Split. Pick your favorite spot on the Riva, and enjoy your coffee and view.
*Have you ever heard of Picigin? It is a traditional ball game that is played primarily in Split. Take a stroll to Bacvice split to enjoy this game in person.
THE BEST TIME OF THE YEAR FOR A WEDDING IN SPLIT
Like other Mediterranean cities, the city of Split has a mild climate with cool winters and hot summers. Average temperatures during the summer range from the high 20s to mid-30s Celsius. Coastal Dalmatia has dry summers with little or no rain; however, please note that we always recommend having a backup plan for your wedding. The weather is the only thing you cannot control on your wedding day. Furthermore, Chic Croatia recommends springtime or an autumn wedding, when temperatures are not as high. However, springtime and fall are the seasons of unstable weather. Peak wedding season in Split is from late springtime to early autumn.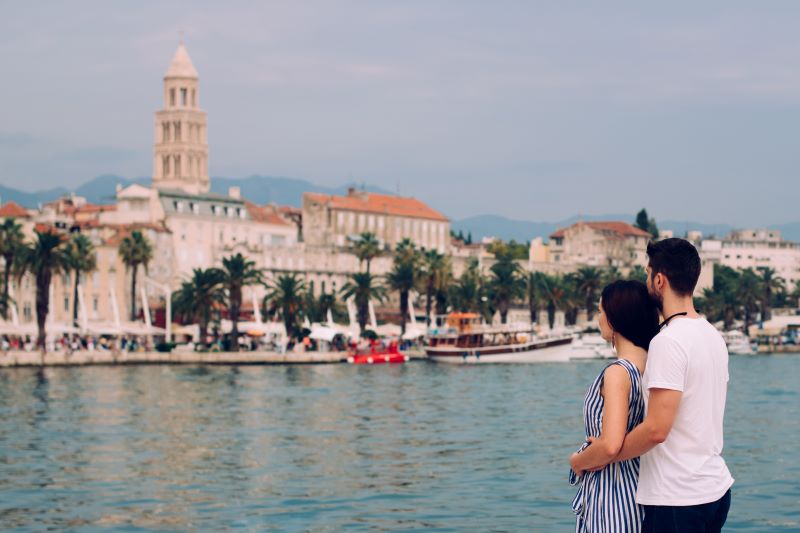 TOP WEDDING VENUES IN SPLIT 
The city of Split has spectacular wedding venues to match any kind of style and budget. We have curated a list of top wedding venues in Split for you to explore. Whether you are looking for a luxurious garden castle, a seaside palace, or a relaxed–style restaurant spot, you are guaranteed to find a wedding venue in Split that will exceed your expectations. In addition, we have also included wedding venues located in the Split county area, not only in the city of Split.
◆ 
Crikvine Mestrovic
This jaw-dropping ceremony wedding venue is one of the most popular Split wedding venues. It is positioned in the area of Meje, right next to Marjan hill. This fabulous venue is an ideal location for your wedding ceremony that will surely impress your guests. It has a capacity of  140 guests. The Crikvine Mestrovic architectural estate is an extraordinary combination of art and sacral elements.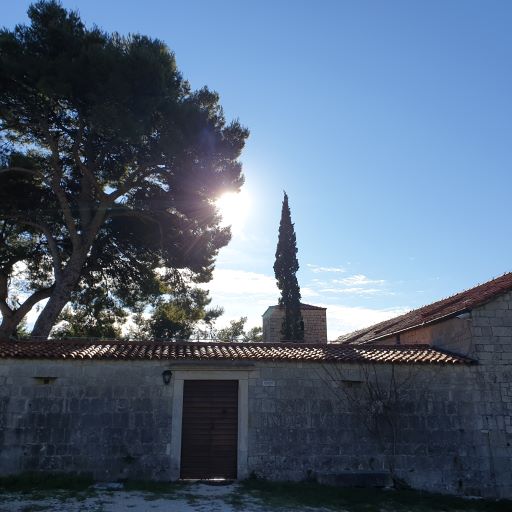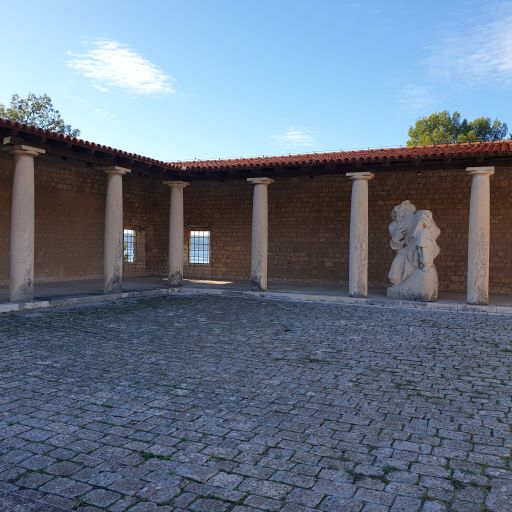 ◆ 
Mestrovic gallery
The impressive Mestrovic gallery is a one-of-a-kind event venue. This unique Split wedding venue is also positioned near Marjan hill, overlooking the islands and crystal clear Adriatic waters. What to expect: lush green islands,  extraordinary views, impressive architecture, and unique art pieces.  Furthermore, one of its biggest benefits is that you can organize both the ceremony and your wedding dinner at this remarkable event venue.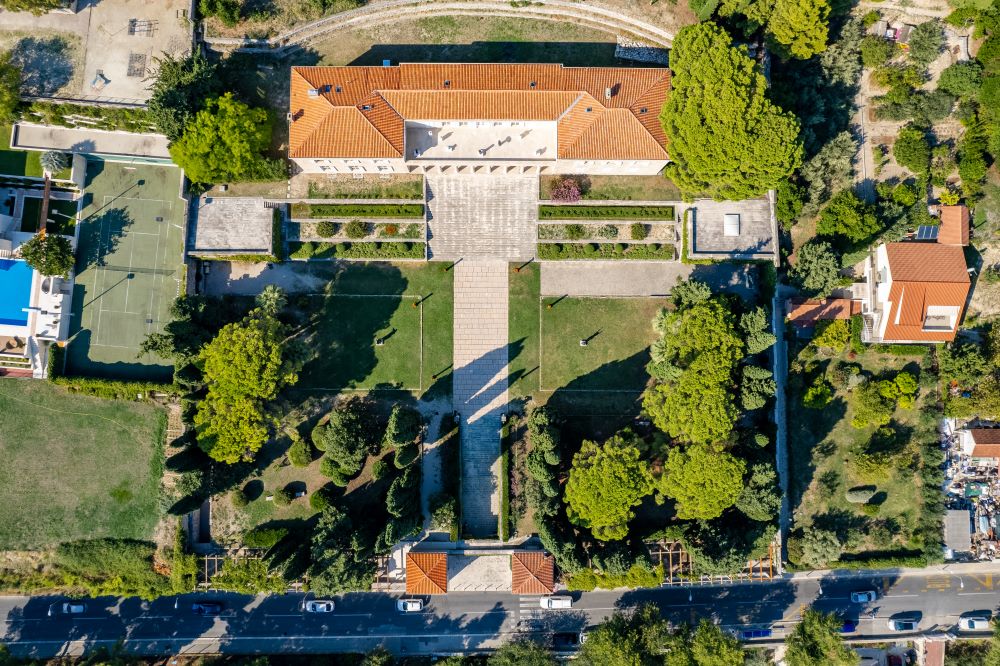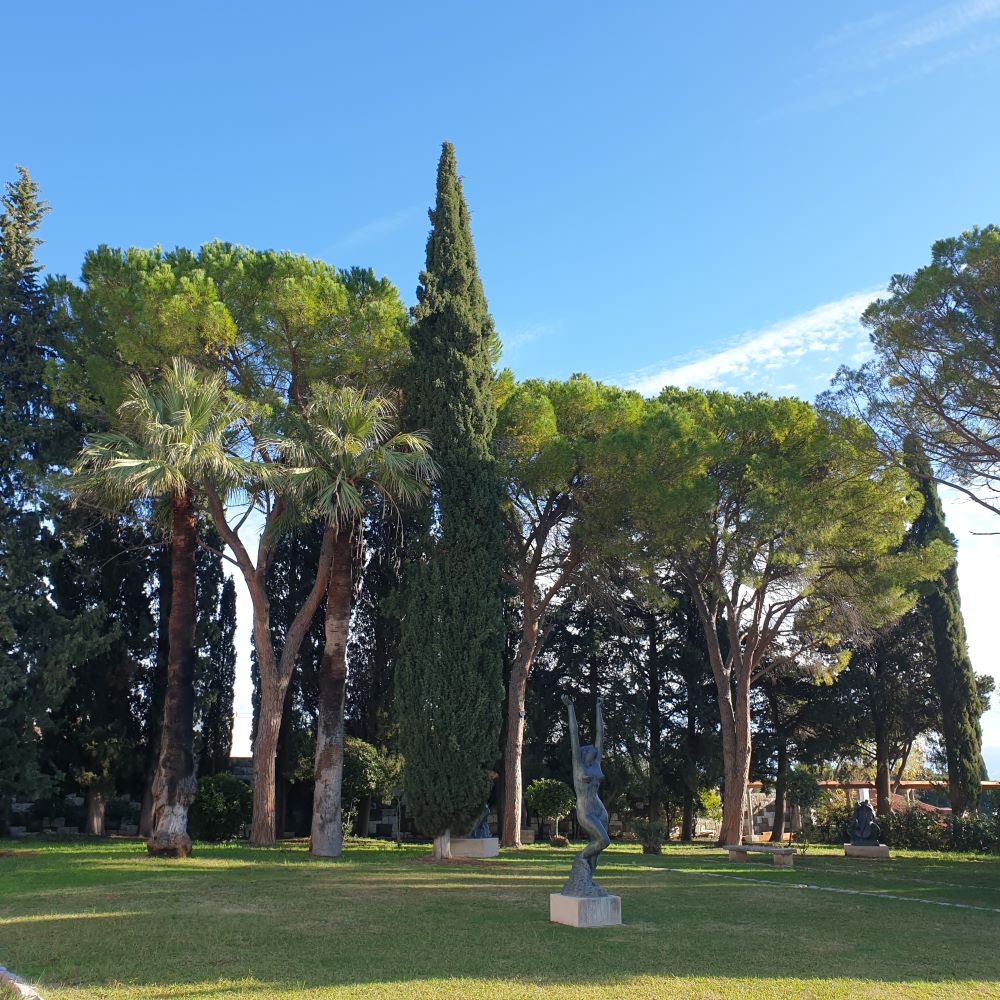 ◆
Villa Dalmacija
One of the most exclusive wedding venues in Split. This remarkable venue is positioned on the west side of the city, next to the hill of Marjan. This magnificent Split wedding venue will leave you impressed with its arches, architecture, and unique views. It is an ideal venue for both a wedding ceremony and a wedding dinner.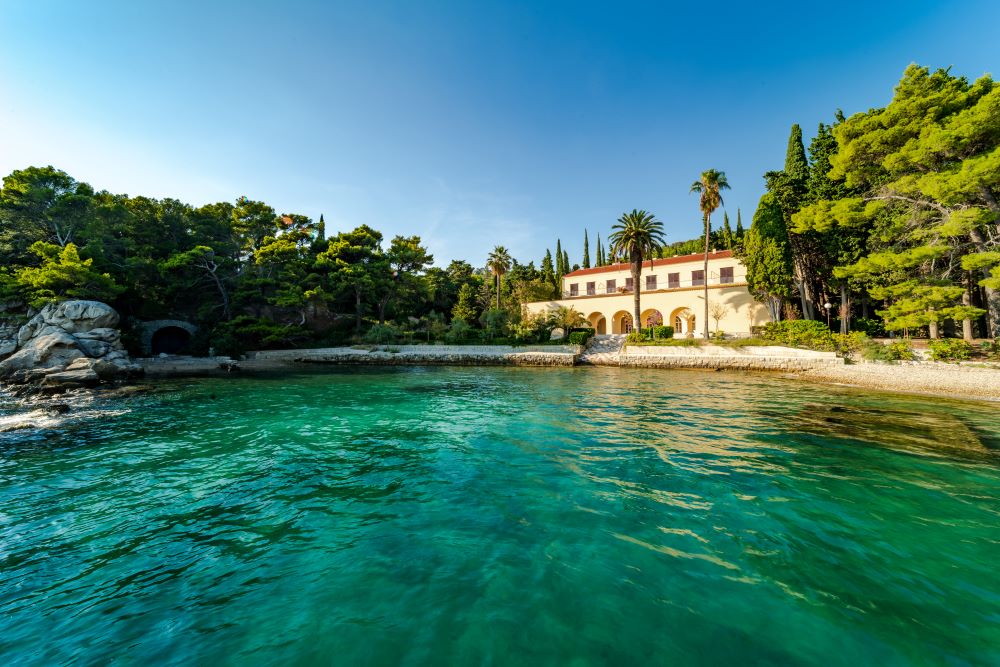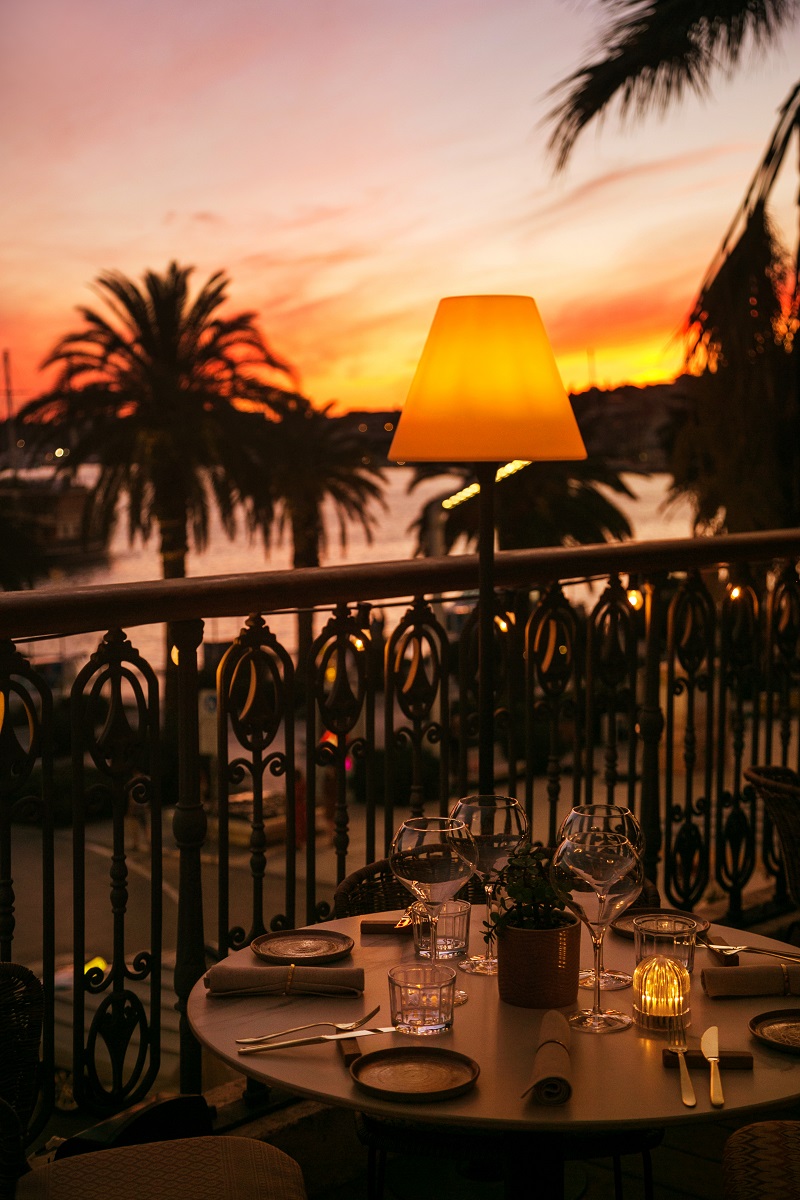 ◆ 
Zoi restaurant
This unique, intimate, and luxurious restaurant located right by the famous Riva is the perfect choice for a small wedding party in Split. With limited seating options, this venue is the ideal choice for micro and small-size weddings. What to expect: impressive views, fine dining atmosphere, and impeccable service.
◆
Klis fortress
The medieval fortress of Klis is known as one of the most impressive fortification monuments in Croatia. Overlooking the city of Split and the surrounding islands, this wedding venue will take you back in time. This magnificent fortification has a rich history dating way back to the 15th century. Chic Croatia would be honored to assist you in planning your big day at this remarkable and breathtaking wedding venues.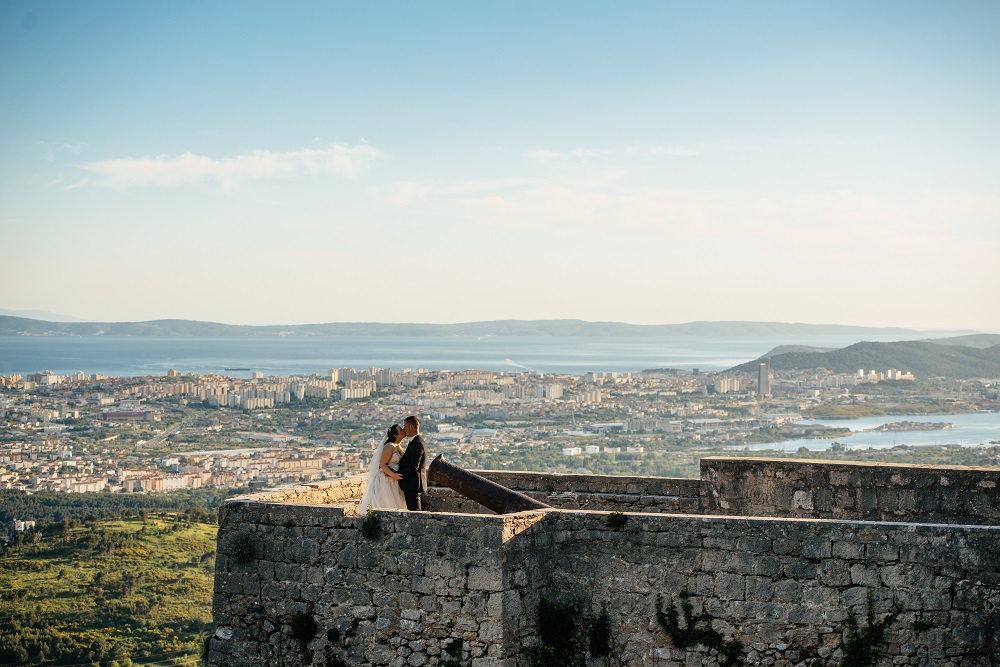 ◆ 
Hotel Split
Near the city of Split, located in Podstrana, hotel Split is an ideal wedding venue for couples looking for an intimate beach celebration, combined with a wedding dinner at the same place. Ideal for parties of 50 to 80, this uniquely positioned property will leave you impressed with its seafront views and creative Mediterranean cuisine with a twist.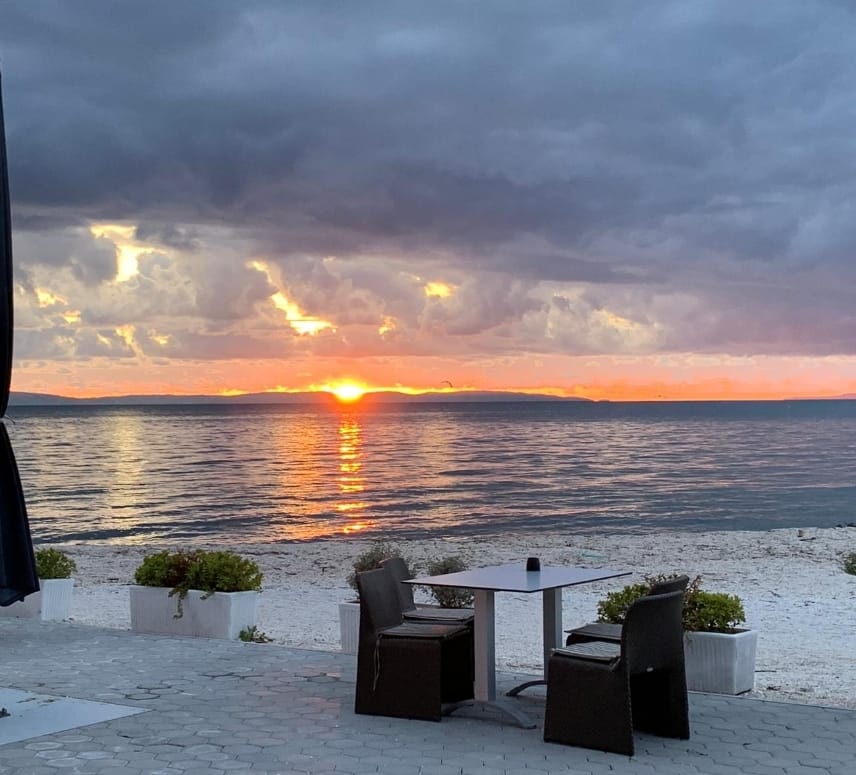 ◆ 
Restaurant Adriatic
One of the most popular dining options in the city of Split, this restaurant is a perfect choice for those looking to experience gourmet dining inspired by local ingredients. Positioned on a cliff, overlooking nearby islands, the Adriatic restaurant promises unforgettable sunset views and a Mediterranean chic vibe.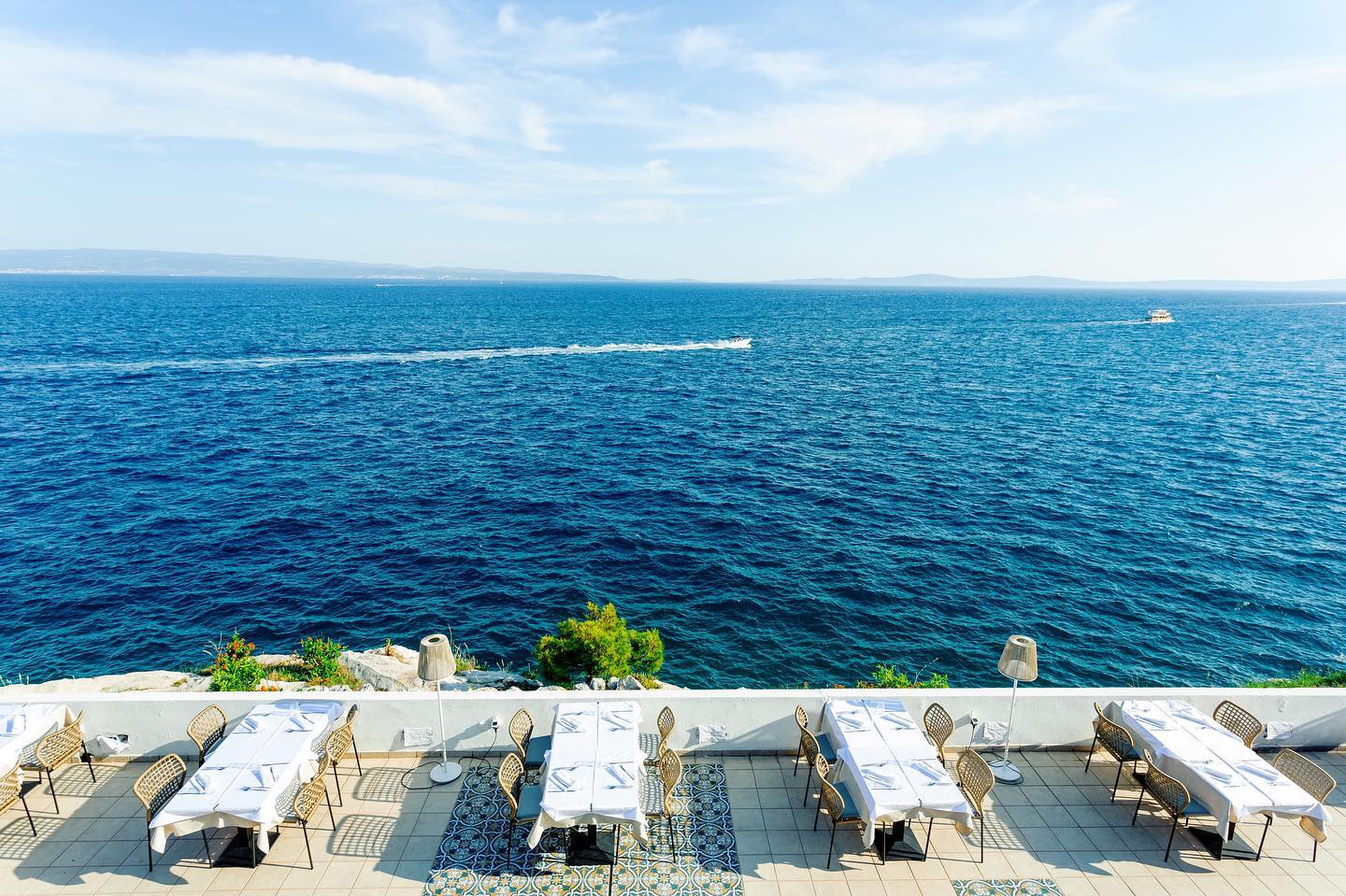 ◆ 
Kalada Etno Selo
Nestled in the hills above Trogir, near the city of Split, this unique resort is a somewhat unusual and different option for your Split destination wedding. What to expect: nature-inspired elements, rustic vibe, magnificent views, and simple, yet charming décor. This venue is a perfect fit for a rustic chill-out theme wedding. Capacity ranges from small intimate weddings to big 200 guests gala celebration.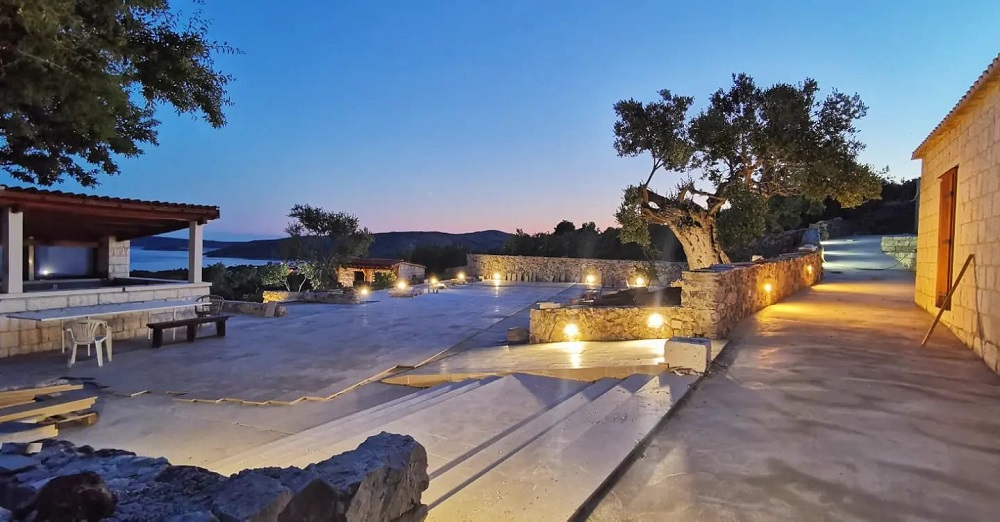 ◆ 
Restaurant Dvor Split
This venue is your perfect go-to place for small, intimate celebrations that do not require exclusive venue booking. Pairing great service with delicious cuisine by Master Chef Zirojevic, this unique wedding spot is one of the most beautiful wedding venues in Split, overlooking Firule bay and the island of Brac.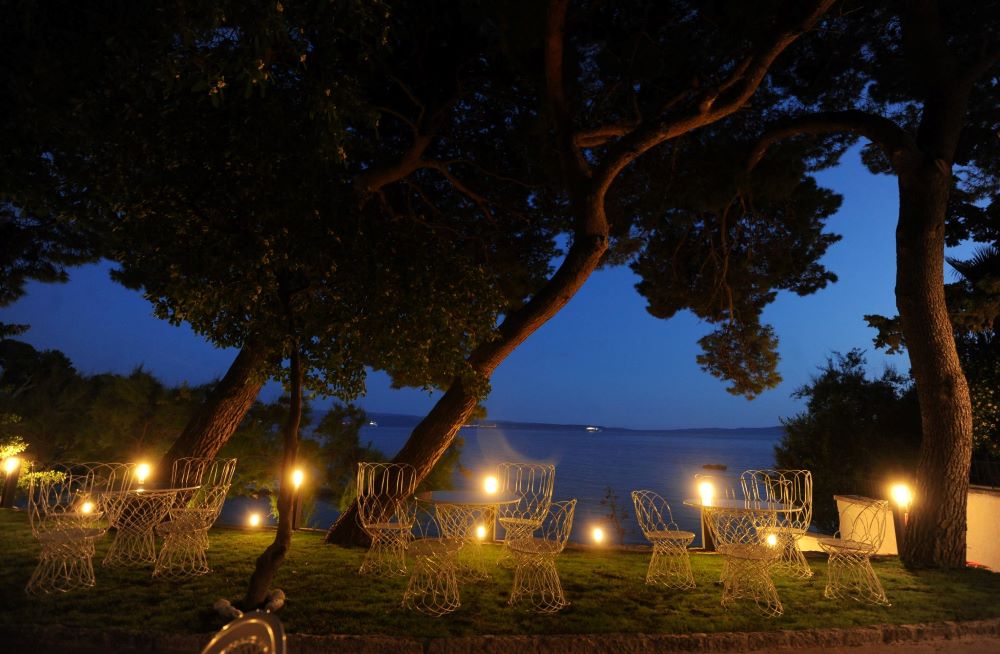 There are many other unique and magnificent wedding venues in Split, Croatia.  Contact us today for the tailor-made offer and other Split wedding venue recommendations.
WHAT TO DO IN SPLIT: DESTINATION ACTIVITIES AND EVENTS
We are sure you will fall in love with Split as much as we do. The city is one of the most unique, charming, and special places on the coast. Don't trust our word, read the NY Times that recommends: 'Head to this Croatian destination lickety – city of Split'. If you're planning to have a destination wedding in Split and Croatia, you're most probably hoping that the destination has much to offer for your guests. Look no more, Split has fantastic half-day and day tours. In addition, the wider bay area of the city of Split has numerous charming villages, unique spots, and sites to explore. Here at Chic Croatia we would like to use this opportunity and share a few of our favorite tours and excursions:
◆
Brac full-day tour
We invite you to explore one of the most popular beaches in Croatia,  Zlatni rat beach in Bol. Or even better, rent a boat for your party and do island hopping as you wish. Chic Croatia planner can assist you in exploring and recommending all the options for your wedding party in Split.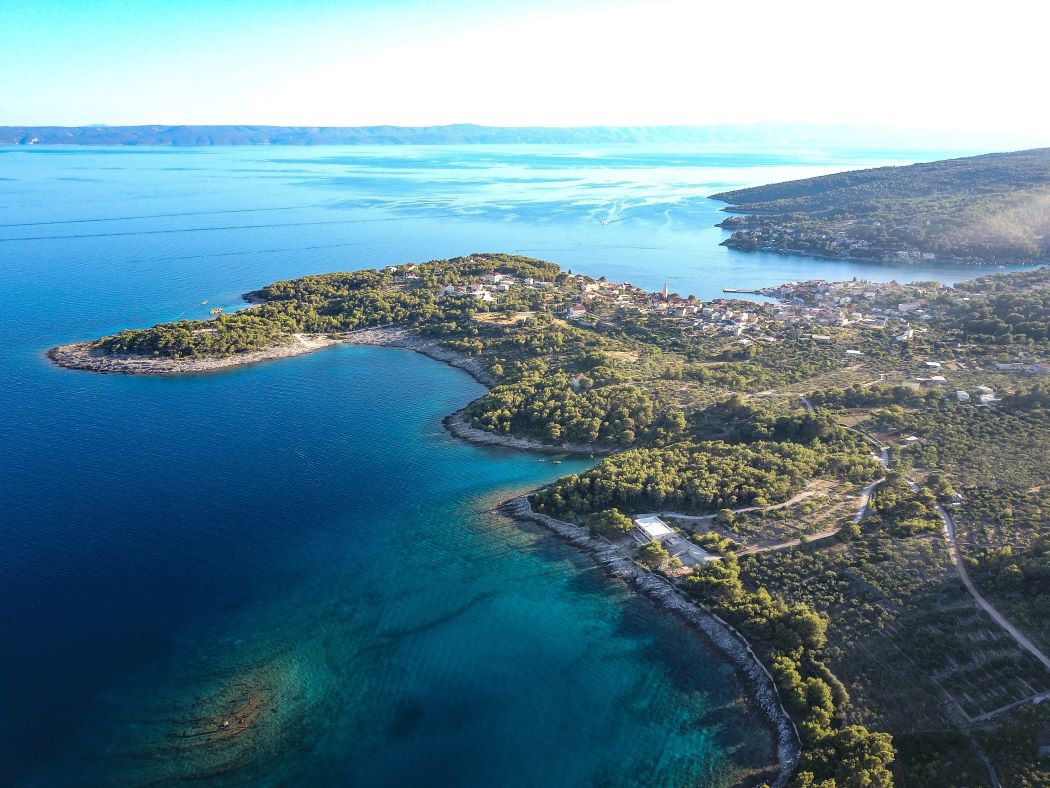 ◆
Walking tour of  the Old town city center
Spend a half day exploring the city center, enjoy local aperitivo on Riva, and taste the best octopus salad traditional Split style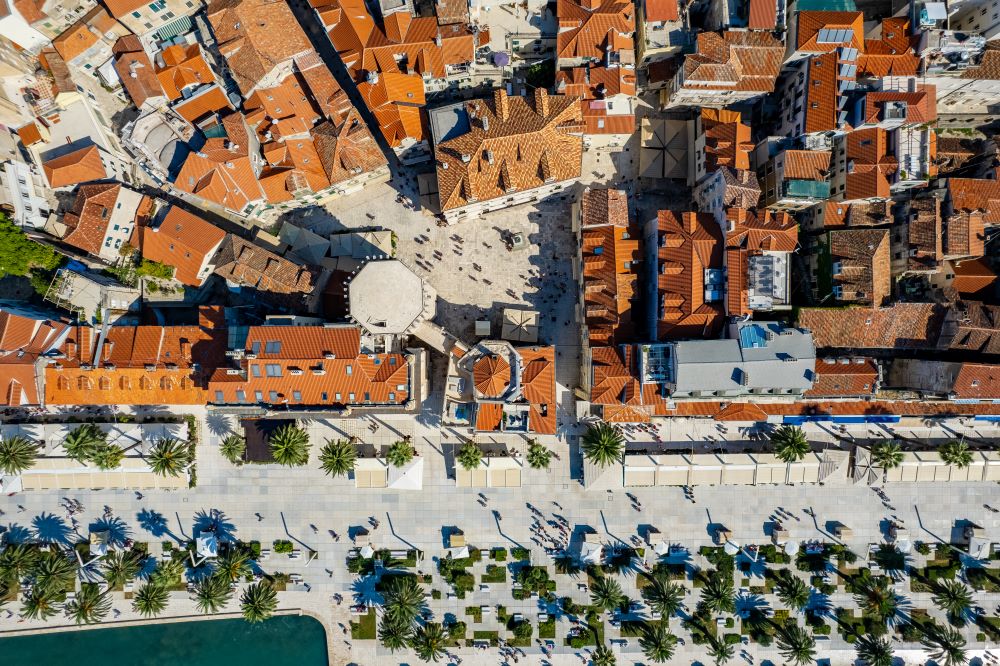 ◆
Cetina river canoeing
Experience rafting and have a day full of adventure on Cetina river, nearby the city of Split
◆
Krka National Park and Sibenik tour
Only an hour and a half away from the city of Split, this tour is one of the most interesting tours you'll experience during your Split visit. Named after the Krka river, the national park Krka is famous for its spectacular waterfalls and cascades. Furthermore, after your Krka visit, we recommend visiting the city of Sibenik and its remarkable cathedral. The cathedral of st James in Sibenik is one of the most significant and beautiful churches in Croatia.
◆
Klis Fortress
This popular Game of thrones filming set is known as one of the most popular fortresses in Croatia. Did you know that this fortress is one of the most significant fortifications in Croatia?
CULTURE AND ART
These best attractions in Split prove why it is one of the most mesmerizing cities in this part of Europe. We recommend the following monuments, museums, and art exhibitions:
◆
The old town is a museum itself
Chic Croatia recommends exploring the old town and its alleys
◆
Ethnographic Museum of Split
Founded in 1820, the Ethnographic museum of Split is one of the oldest museums in Croatia. It features a wide range of traditional Dalmatia embroidery, arts, and coins, as well as many archeological pieces. In addition, it is also one of the most unique Split wedding venues for your wedding ceremony. The museum is positioned near Peristil, at the very heart of the city center.
◆
National Theatre of Split
The theatre was founded in 1893 and is one of the most impressive buildings in the city center. The theatre features numerous musical and dramatic programs that are worth visiting.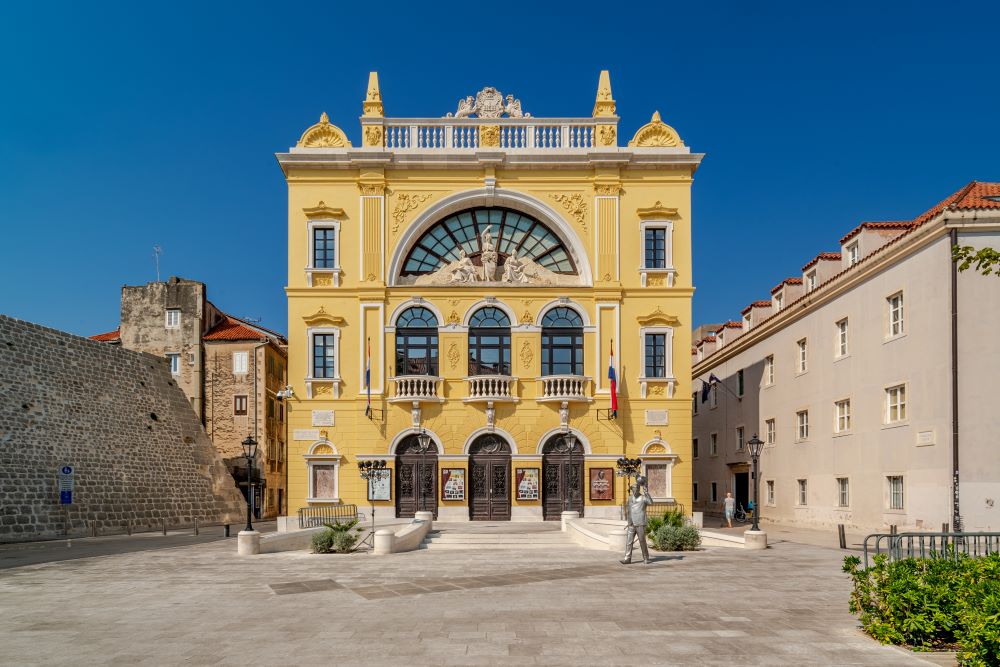 ◆
Split summer festival
The split summer festival is the traditional festival that cherishes and celebrates opera, theatre, and dance. It is held at different venues in Split, from mid-July to mid-August. To check out its program, visit the festival's official website
◆
St. Domnius cathedral
This magnificent cathedral, located in the Diocletian's mausoleum, is considered to be the oldest Catholic cathedral that remains in use in its original structure. It is a perfect choice for a religious ceremony within the city walls.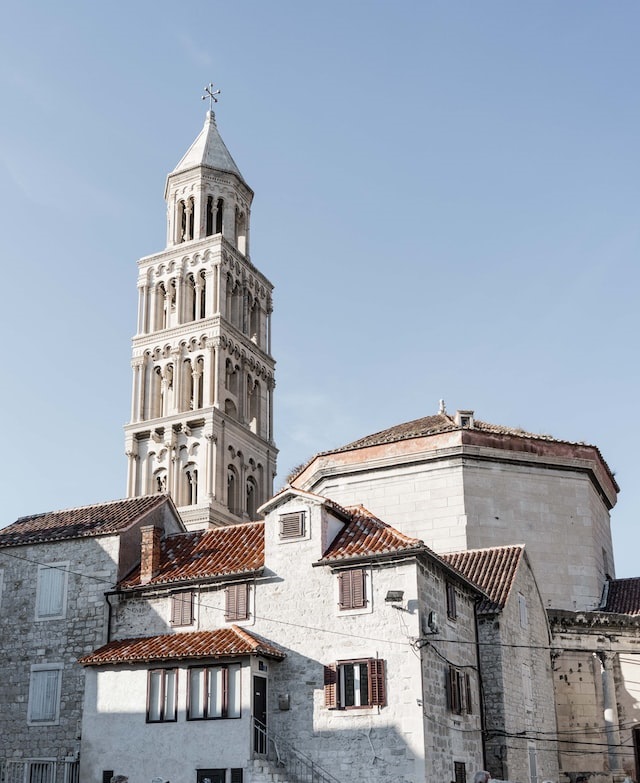 CUISINE AND WINE
Enjoy the real food and wine of Split as this will be one of your most cherished memories. Split is known for its great, tasty Mediterranean food with a twist, and superb local wines from nearby islands and surrounding regions. To learn more about Croatian must-try culinary specialties, we invite you to read our blog post 'Top menu ideas for your wedding in Croatia.'  Find out more about local specialties and recommended dishes, as well as how to create a wedding menu your guests will talk about. Turn your dream wedding in Split into a reality with a unique atmosphere and locally inspired catering.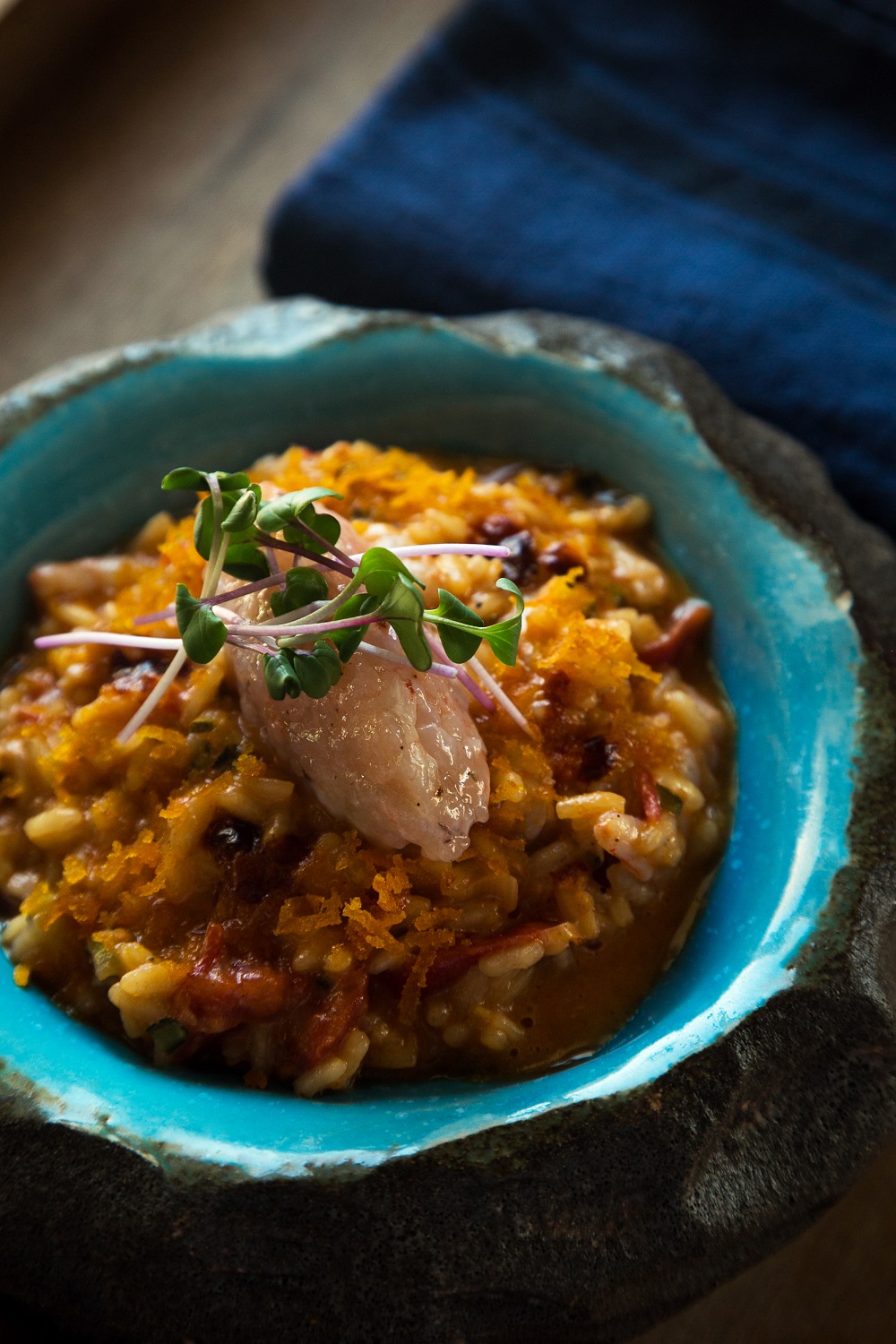 In addition, besides the vibrant Split restaurant scene, we recommend exploring nearby wineries in the region. Recommended wineries in the area are: Kairos winery, Vinoplod winery, Bibich winey, Testamenat winery, and Baraka winery. Vineries are also a fantastic wedding venue option for both your ceremony and a casual, relaxed summer wedding dinner. Our friends at Kairos Winery have a spacious vineyard overlooking the crystal clear Adriatic sea and surrounding islands, located only a few kilometers away from the historical city of Trogir. Recommended wine sort to taste is Crljenak, a wine sort from the Central Dalmatia region.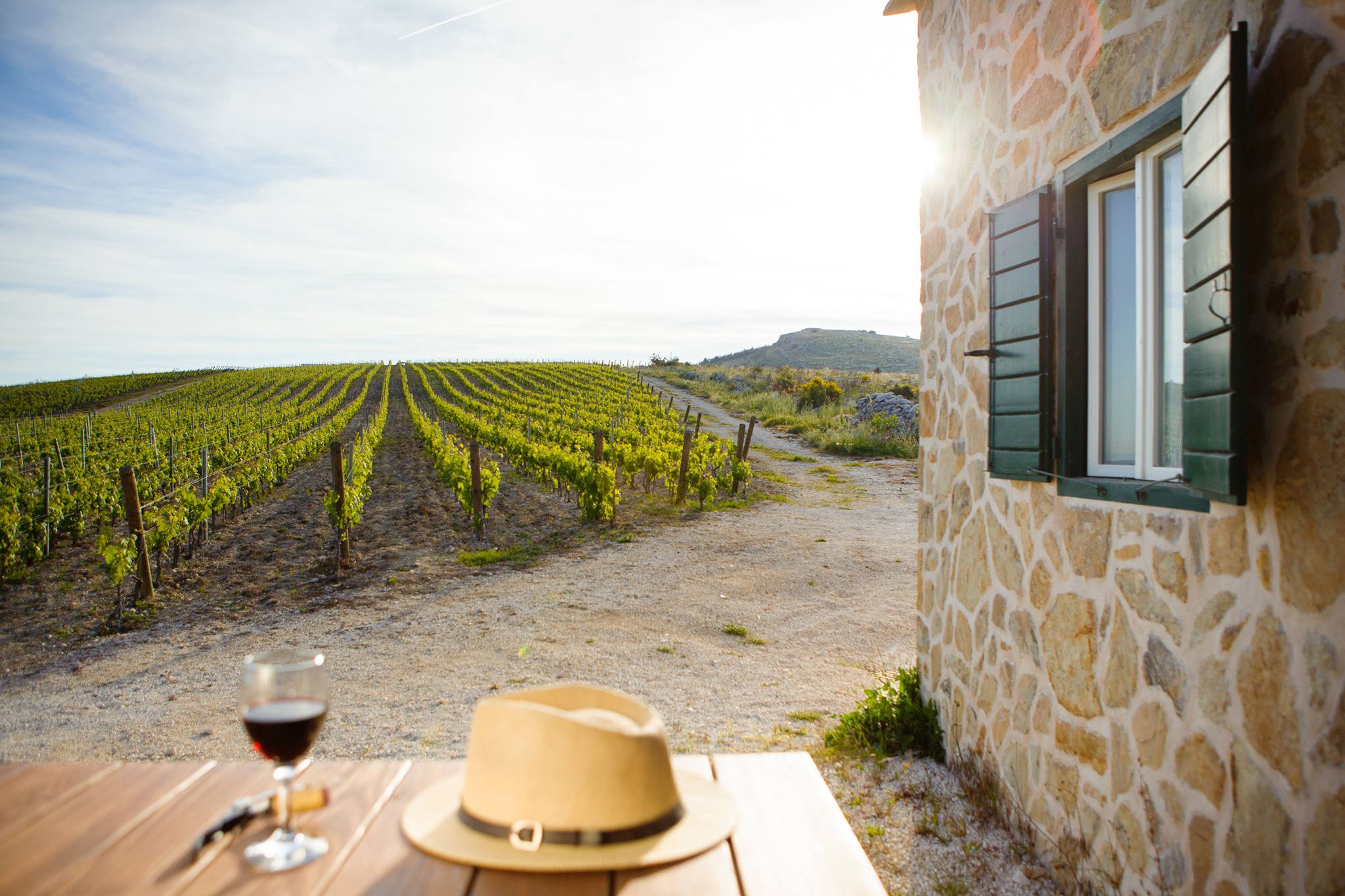 WEDDING PLANNING COST
What is the average cost for a Split wedding? It is a difficult question to answer, as it primarily depends on your choice of a wedding venue, style preferences, and budget. Defining your budget should be one of your main priorities as it will affect your decisions regarding a wedding venue, catering, decoration, and other relevant elements of wedding planning.  When planning a destination wedding in Split, Chic Croatia recommends considering the following budget elements:
◆
Venue hire
Venue hire prices range from 1000,00 EUR to 8,000 EUR + VAT, depending on the venue, size of the venue, its history, and significance. Chic Croatia will recommend a range of venues in the area, based on your wishes, preferences, and the budget you had in mind for venue rental.
◆
Food and beverage
Wedding menu prices range from 70,00 EUR – to 200,00 EUR pp, depending on the venue and catering service and style. In addition, do not forget to add drinks as well, as usually the packages go from 50,00 EUR to more than 220,00 EUR per person for a full evening program.  To read more about recommended Croatia menu specialties, read our blog post 'Top dishes for your Croatia wedding'.
◆
Decoration and styling
Wedding decoration is one of the most important elements of wedding planning. Flowers and wedding decor set the wedding atmosphere and overall ambiance. It is also one of the most important decisions you will have to make during your wedding planning as flowers and decor usually take a significant part of your wedding budget. To begin, we suggest choosing the style you like the most and then incorporating it into your wedding. There are many popular wedding themes and styles to choose from, no matter how big or small your wedding is. Chic Croatia can help you design and decorate your wedding, incorporating different styles and themes.
In addition, there are many different options to choose from: classic, boho, glam, rustic, nautical, or creative wedding theme. On average, wedding decorations cost from 1.500 EUR to 15.000 EUR, but it depends on several factors:  number of guests, flower choice, your choice of venue and ceremony decor, and centerpieces. Pricing varies a lot, depending also on the location where you're getting married, as well as how extravagant and lavish you want to go when it comes to styling.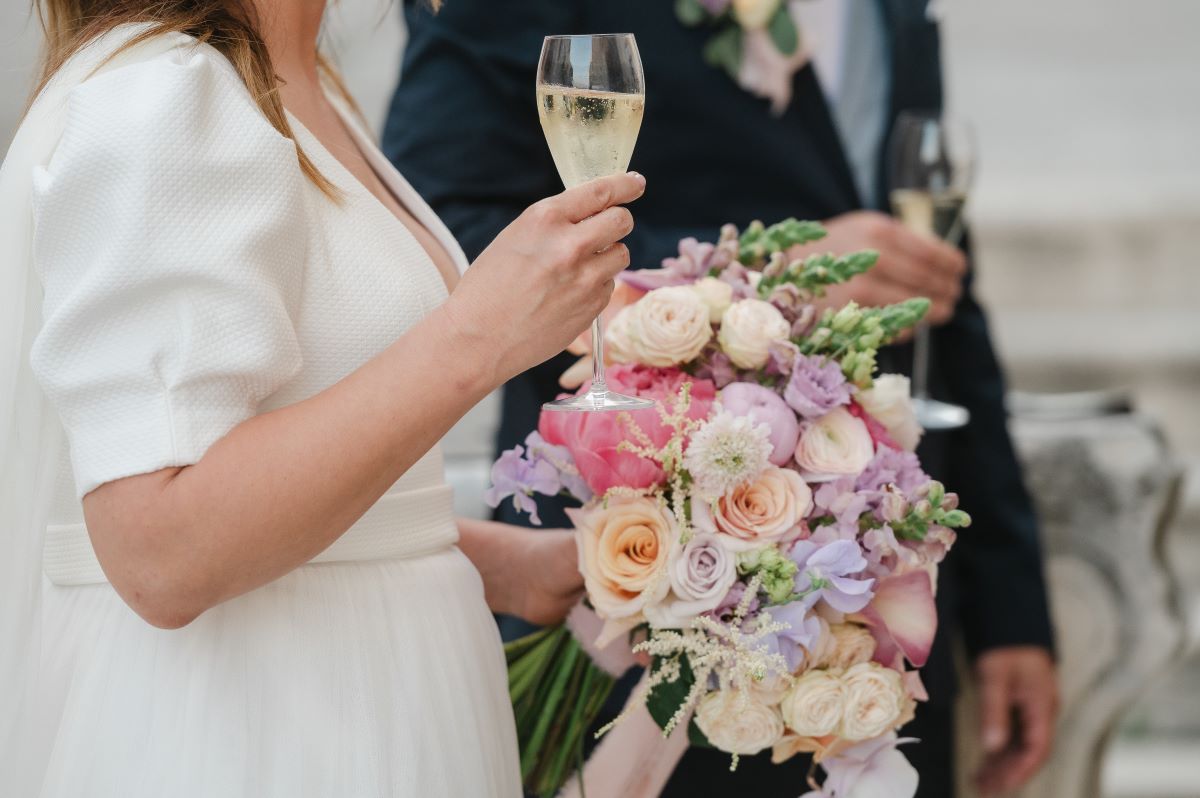 ◆
Wedding Music
Do you prefer a DJ, a band, or different music genres and sets combined? It all makes a difference and will greatly impact your wedding budget. A live band is from 2,500 EUR to 8,000 EUR; DJs range from 800,00 EUR to 2500,00 EUR; wedding ceremony music is from 400,00 EUR to 1,200 EUR. Your wedding music choice is primarily influenced by your music style, choice, number of musicians, their experience, and budget.
◆
Photography and Videography
Wedding photography and videography are one of the most important aspects of your wedding planning.
Fabulous photos and video clips allow you to relieve your wedding day.  Wedding images and films tell a story about your love and your most special day, so make sure to carefully choose your preferred photographer and videographer.  The photography cost is between 1,500 to 5,000 EUR.  Contact us for recommendations and more information about our preferred partners and vendors.
◆
Sound and lights
We love lights and special styling. Lights can make such a big difference when it comes to wedding styling and decor. The selected wedding lights will set a tone and ambiance for your wedding venue and location.
Special lights and sound are starting from 1,000 EUR, depending on the location, number of guests, selected style, and number of special lights/sound requirements.
◆
Pre and post-wedding celebration
Many couples decide to do a welcome party or a day-after party. We often recommend organizing a special picnic, a sailing activity, or another unique daily program, to keep guests together and entertained. However, please note that this may significantly increase your overall cost.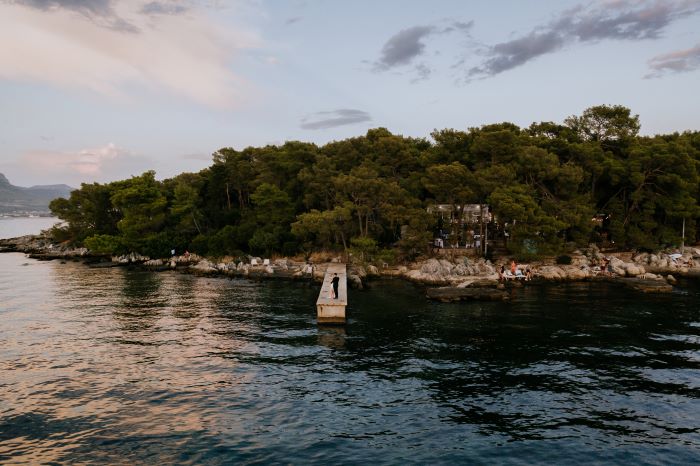 Important note:
Please note that there are many other wedding planning elements that should be included in your budget, such as transportation, wedding planning cost and overall management, favors, legalities, and paperwork.
Chic Croatia will support and guide your Croatia wedding planning so you can fully enjoy the wedding planning process and your big day. Whichever Split wedding venue you choose, you are guaranteed to have a dream destination wedding. Drop us an email and get in touch for a free quotation.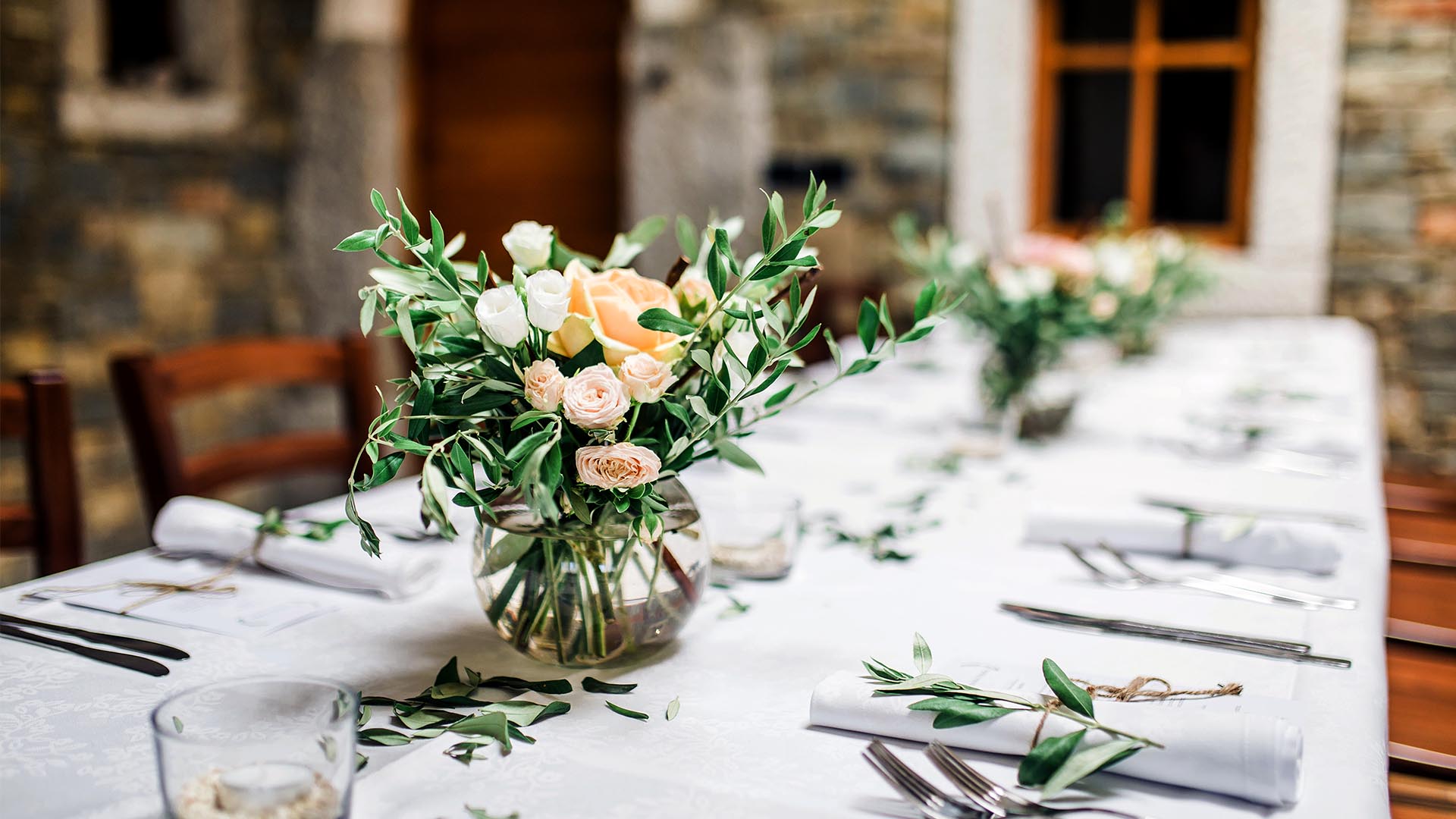 📷 Thank you: Mise Photography I Futopia I Visit Split I L33T agency I Zoi restaurant I Hotel Split I Kairos winery I Restaurant Adriatic I Kalada Etno selo